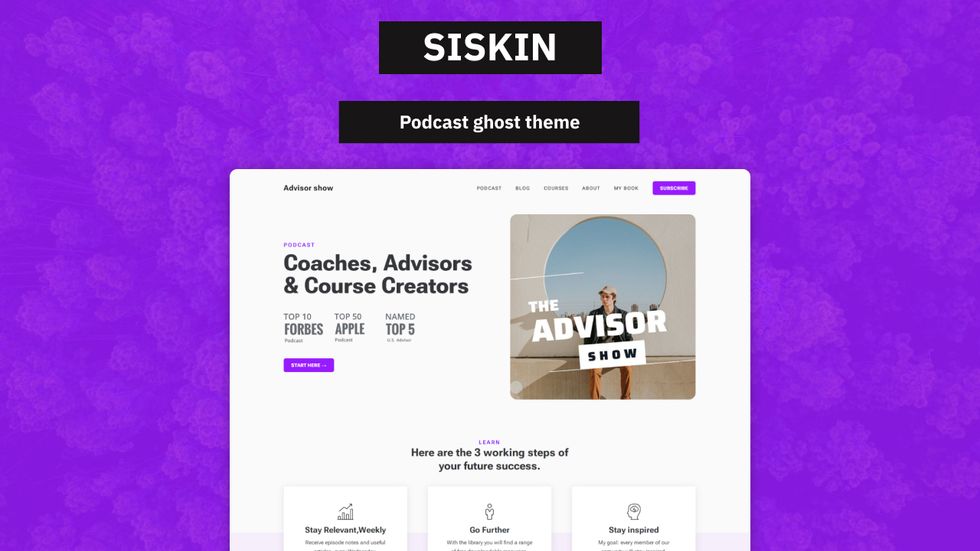 Thanks for showing interest in Siskin Ghost Podcast Theme.
We have built this theme for creators that want to have a personal presentation of their work combined with a podcast, blog and newsletter.
Siskin comes with a powerful audio player where your users can play self-hosted episodes while they are reading episode transcriptions. Siskin theme also supports audio & video embedded content, individual episodes or embedded playlists.
Siskin theme allows embedding files from the following podcast networks:
Spotify
Apple podcasts
YouTube
SoundCloud
MixCloud
Stitcher
PodBean
Blubrry LibSyn
Spreaker
Cadence,
Podomatic
Deezer
Ausha
Cadence13
Transistor
Megaphone.fm
and many more...
---
Adding episodes with self-hosted audio
If you want to have self-hosted mp3/audio files inside each episode you can use Siskin theme functionality. Since Ghost doesn't have custom fields, we have repurposed the Facebook description field for each post to store the link to the audio file.
Go to Posts > New post to create a regular post, give it a title and some description in the editor.
Inside Post settings > Facebook card > Facebook description field enter the episode audio URL.
Your audio file can be hosted anywhere (some third-party service or you can use CDN),  just paste the provided URL into the Facebook description and you should be all set.
Separate Blog from Podcast
If you would like to have a blog feed and separate it from the podcast, you will need to create a custom route. Upload example routes.yaml file in your settings at Settings > Labs > Routes. Once done, all your posts with the tag Blog will be displayed under yourawesomesite.com/blog